3- 8 Foot Tables and 24 Chairs Package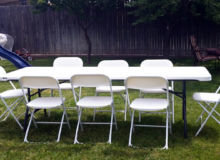 Description
Introducing our Exclusive Event Package: The Perfect Combination of Tables and Chairs!
Enhance your upcoming event or gathering with our all-inclusive package, featuring three 8-foot long white plastic tables and 24 white folding chairs. This specially curated bundle is designed to provide you with the essential elements for creating a stylish and comfortable seating arrangement for your guests.
The three 8-foot long white plastic tables offer ample space for serving food, displaying decorations, or accommodating a variety of activities. Their sleek and clean design adds a touch of sophistication to any setting, making them a versatile choice for weddings, parties, conferences, and more. Please note that tablecloths are required to complete the look and are not included in the package.
To complement the tables, we provide 24 white folding chairs that perfectly balance elegance and convenience. These chairs are not only comfortable but also easy to set up and transport. Whether you're hosting a formal dinner, a casual gathering, or a corporate event, our white folding chairs seamlessly fit any occasion.
It's important to note that this exclusive package is only available for rental with the purchase of another game, ensuring that you can create a complete and memorable experience for your guests. By combining this package with our exciting selection of games, you can elevate the entertainment factor and provide a truly unforgettable event.
Don't miss out on this exceptional offer! Contact us today to reserve our exclusive event package and take your upcoming event to the next level of style and functionality.
This Package Includes:
3 - 8 foot Tables
24 Chairs