Big Kahuna Inflatable Slide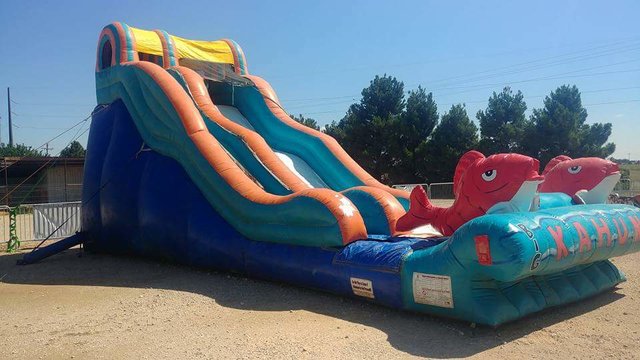 Setup Area: 25 X 40 X 20 TALL
Description
Looking for an exciting way to add some fun to your next event or party? Look no further than the Big Kahuna Inflatable Slide! This massive inflatable slide stands at an impressive height of 22 feet, towering over all other attractions at your event. The vibrant colors and tropical theme will transport you to a paradise island as you climb to the top of the slide.Once you reach the top, take a deep breath and prepare yourself for an exhilarating ride down. The steep incline and long slide length will have you sliding at high speeds, creating an adrenaline rush like no other. The Big Kahuna Slide is perfect for all ages, from kids to adults, and is sure to be the highlight of any event.The inflatable slide is made from high-quality materials, ensuring safety and durability. It is easy to set up and take down, making it a hassle-free addition to your event. So why wait? Add the Big Kahuna Slide to your next party or event and give your guests an experience they will never forget!
Made with high-quality materials and designed for maximum safety, the Big Kahuna Slide is a must-have attraction for any backyard or park event. So, get ready for the ride of your life with the Big Kahuna Slide!

* This game requires a 6ft gate opening if going inside fenced in yard.