Birthday Cake Bounce House Package Deal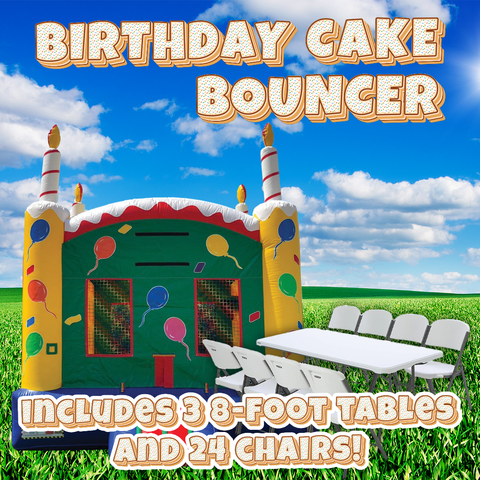 Description
Make your child's birthday celebration unforgettable with our Birthday Cake Bounce House Package Deal!
This extraordinary inflatable bounce house is a whimsical replica of a giant birthday cake, adorned with vibrant frosting and delightful sprinkles. It's the perfect centerpiece for a truly magical birthday experience.
Inside the Birthday Cake Bounce House, kids will embark on a bouncing adventure like no other. They'll jump, bounce, and giggle with joy, creating memories that will last a lifetime. Parents can have peace of mind knowing that the bounce house is designed with safety in mind, featuring sturdy construction and reliable safety features.
Our package deal includes three 8-foot long tables and 24 white folding chairs, providing ample space for dining, cake cutting, and seating arrangements. It's a convenient and comprehensive solution for hosting a memorable birthday party.
Ideal for outdoor gatherings, the Birthday Cake Bounce House will captivate children of all ages. Whether you're celebrating a first birthday or a sweet sixteen, this unique inflatable will add an extra touch of excitement and fun to the festivities.
Don't miss out on creating a birthday experience that will be cherished forever. Order your Birthday Cake Bounce House Package Deal today and watch as your child's face lights up with joy on their special day!
* This jumper comes with a safety entrance and see-through netting on all sides to watch kids play safely. The birthday jumper is great for any bday party for both boys and girls.
This Package Includes:
Birthday Cake Bounce House
3 - 8 foot long tables
24 Chairs