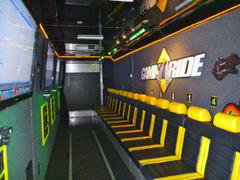 GAME TRAILER
Video game trailer includes with large flat screen tv's, vibrating interactive gaming seats, sound and lighting special effects,
a state-of-the-art 4D lounge
. Games are setup for VBOX, WII, and PS3. This mobile gaming unit features seating for 24, and has live video feed of the interior for safety. Rent this exciting new item today!