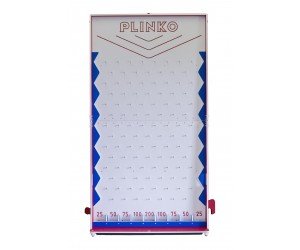 Description
Introducing the Giant Blinko Game - the perfect addition to any party or event! This oversized version of the classic game is sure to provide hours of entertainment for guests of all ages.Measuring at an impressive 4 feet tall and 2 feet wide, the GIANT BLINKO board is made from high-quality, durable materials that can withstand even the most enthusiastic players. The board features a series of pegs that players can drop their game pieces through, with the goal of landing in the highest-scoring slots at the bottom.
The Giant Blinko Game board comes with 6 sets of colored game pieces, so multiple players can compete at once. It's easy to set up and take down, making it perfect for outdoor events, family gatherings, or even in the office break room.
Whether you're looking to add some fun to your next party or just want to bring some excitement to your daily routine, the Giant Blinko Game is the perfect choice. Order yours today and get ready to experience the thrill of this classic game in a whole new way!