High Striker Carnival Game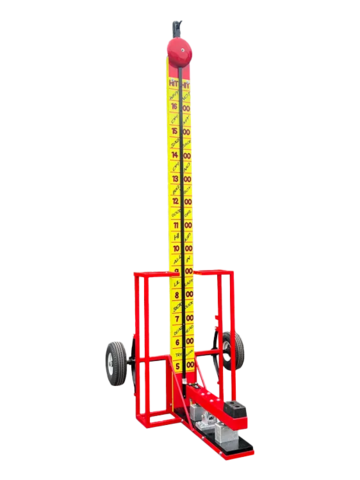 Description
Are you searching for an exhilarating and captivating game to keep your guests entertained at your carnival-themed event or backyard gathering?
Discover our sensational High Striker!
This timeless favorite guarantees endless enjoyment for all ages and skill levels.
The High Striker Carnival Game features an impressive vertical tower adorned with vibrant colors, complete with a sturdy mallet at the base. Participants take turns wielding the mallet, aiming to strike the small target atop the tower. The intensity of their swings determines the target's ascent and the corresponding points earned.
With its festive design and nostalgic charm, the High Striker Carnival Game is a fantastic addition to any occasion. Whether you're organizing a school carnival, hosting a company picnic, or celebrating a lively backyard birthday party, this game is guaranteed to captivate the crowd and create lasting memories. Don't miss out on the opportunity to elevate your event to new heights!
Embrace the excitement and order your High Striker Carnival Game today. Get ready for hours of laughter, friendly competition, and sheer exhilaration as your guests swing into action and strive for the highest score. Make your event an unforgettable experience with this classic carnival game that promises non-stop fun and excitement!
© maineventsportsonair All rights reserved