Jaguar 19ft Inflatable Water Slide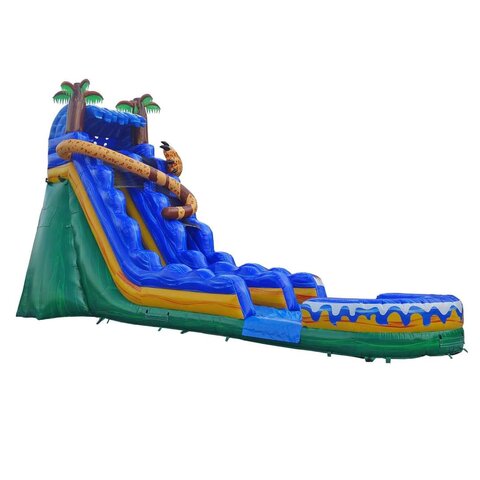 $350.00
Please call to reserve this item

Setup Area: 37 x 15 x 19
Actual Size: 37 x 15 x 19
Description
Introducing the Jaguar 19ft Inflatable Water Slide: Unleash the Wild Fun!
Get ready for an extraordinary water adventure with our Jaguar 19ft Inflatable Water Slide. This exhilarating slide is designed to bring excitement and joy to any event or party. With its stunning design and impressive height, it's guaranteed to be the centerpiece of all water-related festivities.
As you ascend to the top of the Jaguar 19ft Water Slide, prepare yourself for an adrenaline rush like no other. Once at the summit, experience the thrill of a high-speed descent down the water-drenched slide, splashing into a refreshing pool at the bottom. The Jaguar theme adds a touch of untamed excitement to the whole experience, making it a favorite among kids and adults alike.
Safety is our top priority. Rest assured, this inflatable water slide is crafted from high-quality materials and adheres to strict safety standards. The sturdy construction ensures stability and durability throughout hours of sliding fun. Plus, our team will provide clear safety instructions to ensure everyone enjoys a safe and memorable experience.
Perfect for birthday parties, family gatherings, corporate picnics, or community events, the Jaguar 19ft Inflatable Water Slide guarantees non-stop entertainment. Its vibrant colors and eye-catching design create an atmosphere of adventure and joy, leaving a lasting impression on all who participate.
Renting the Jaguar 19ft Inflatable Water Slide is hassle-free. Our professional team will deliver, set up, and dismantle the slide, so you can focus on enjoying the festivities. We take pride in providing exceptional customer service to ensure your event is a roaring success.
Don't miss out on the opportunity to elevate your event to new heights of excitement. Reserve the Jaguar 19ft Inflatable Water Slide today and prepare for a wild and wet adventure that will leave everyone with unforgettable memories!