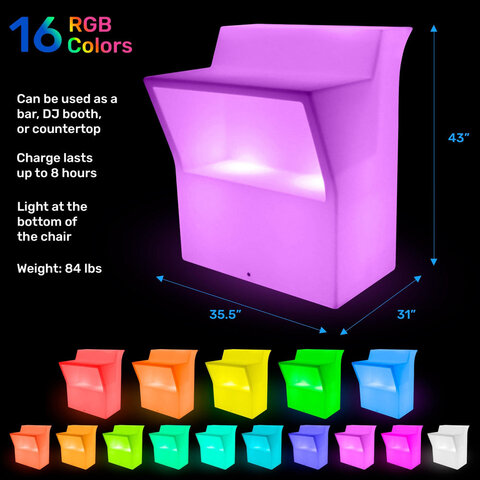 Description
THIS LED BAR CAN SERVE AS A CHECK IN COUNTER OR A FULL BAR.
Introducing our LED Bars, the perfect lighting solution for any event or occasion. These sleek and stylish bars are designed to provide bright, vibrant lighting that will enhance the atmosphere of any room. With their energy-efficient LED bulbs, these bars are not only stylish but also eco-friendly.
Our LED Bars are perfect for use in a variety of settings, from home parties to professional events. They are easy to set up and operate, with a simple plug-and-play design that requires no complicated installation. The bars come with a remote control that allows you to adjust the lighting to your desired level of brightness and color.
These LED Bars are built to last, with a durable construction that can withstand the wear and tear of frequent use. They are also easy to clean, with a smooth surface that can be wiped down quickly and easily.
Whether you're hosting a party, setting up a display, or just looking for a unique way to light up your space, our LED Bars are the perfect solution. With their sleek design, energy-efficient lighting, and easy-to-use features, these bars are sure to impress. Order yours today and experience the difference that LED lighting can make!