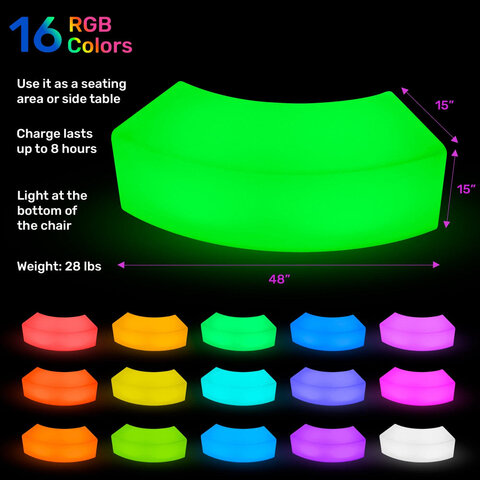 Description
LED BENCH SEATING GIVES A GROUP OF PEOPLE A CHANCE TO SIT DOWN TOGETHER.
Introducing our LED bench seating, the perfect addition to any modern space. These benches are not only stylish but also functional, providing comfortable seating for guests while also adding a unique touch of ambiance to any room.
Each bench is made with high-quality materials that are built to last, ensuring durability and longevity. The LED lights are integrated seamlessly into the design, creating a stunning glow that illuminates the surrounding area.
Our LED bench seating is perfect for a variety of settings, from trendy bars and nightclubs to upscale lounges and hotels. They also work well in residential settings, such as game rooms, home theaters, and outdoor patios.
Choose from a variety of sizes and colors to fit your specific needs and preferences. Our LED bench seating is easy to install and maintain, making it a hassle-free addition to any space. Make a statement with our LED bench seating and elevate your space to the next level.