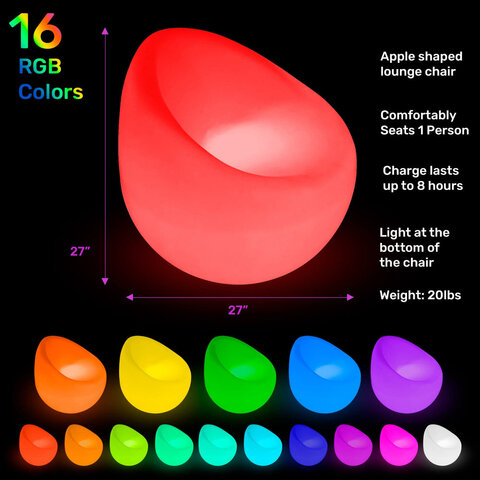 Description
THE LED CHAIRS FIT THE VIB AS YOU CAN SIT AND RELAX BEFORE YOU GET YOUR GROOVE BACK ON.
Introducing our LED chairs, the perfect addition to any event or party! These chairs are not only comfortable and stylish, but they also feature vibrant LED lights that can be customized to match any color scheme or theme.
Our LED chairs are made with high-quality materials and are designed to withstand heavy use. They are also lightweight and easy to move, making them perfect for events that require frequent rearrangement.
With a range of color options and customizable settings, our LED chairs are sure to impress your guests and create a memorable atmosphere. Whether you're hosting a wedding, corporate event, or backyard party, our LED chairs are the perfect choice for adding a touch of excitement and style to your space.
So why wait? Add our LED chairs to your event rental inventory and take your event to the next level!