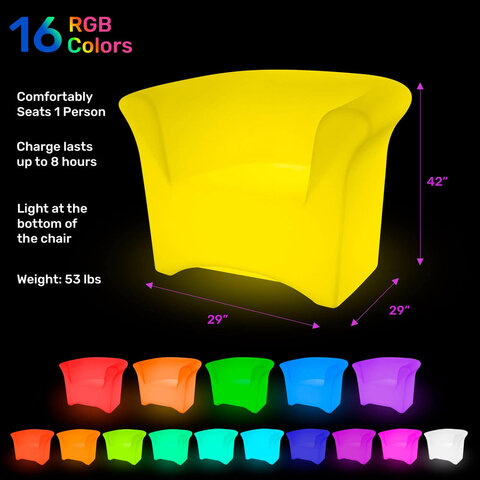 Description
ANOTHER KOOL CHAIR TO REST AND TALK BEFORE DANCE TIME
Introducing our stylish and contemporary LED couches - the perfect addition to any modern home or event space. Our LED couches are designed to provide comfort and style, while also adding a touch of sophistication to any setting.
Featuring a sleek and minimalist design, our LED couches are crafted using high-quality materials that are built to last. The LED lighting system is integrated seamlessly into the couch, providing a stunning and eye-catching effect that is sure to impress.
Whether you're looking to enhance your home decor or create a unique ambiance for your next event, our LED couches are the perfect choice. With a range of colors and lighting modes to choose from, you can easily customize the look and feel of your space to suit your preferences.
So why wait? Elevate your home or event space with our stunning LED couches today!