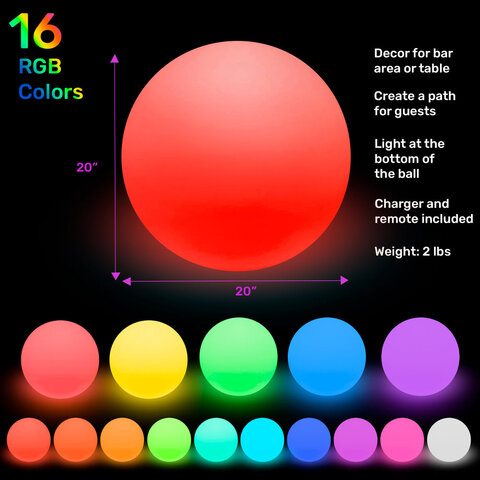 Description
THESE BALLS SURROND THE DANCE FLOOR TO GIVE IT ANOTHER APPERANCE
Introducing our LED Display Balls - the perfect addition to any event or party! These eye-catching LED balls are sure to make a statement with their bright and vibrant colors that can be seen from far away.
Our LED Display Balls are available in different sizes, making them versatile for any occasion. They are made with high-quality materials and are built to last, ensuring that you can use them for multiple events to come.
These LED Display Balls are easy to use and can be controlled with a remote control, allowing you to change the colors and patterns to match the theme of your event. They are also rechargeable, so you don't have to worry about replacing batteries frequently.
Whether you're hosting a wedding, birthday party, or corporate event, our LED Display Balls will add a touch of fun and excitement to your event. So why wait? Add our LED Display Balls to your event today and make it a night to remember!