Midnight 19FT Inflatable Water Slide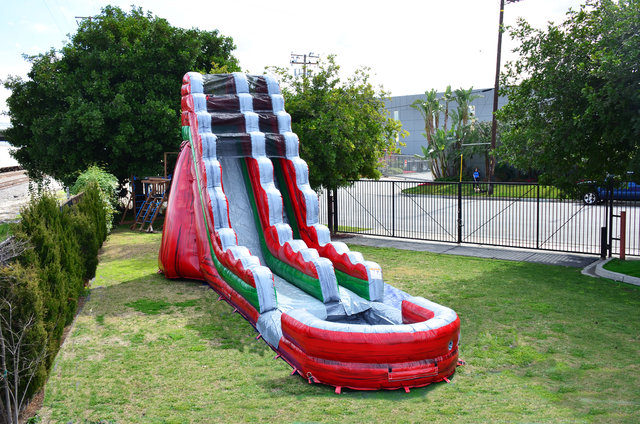 $350.00
Please call to reserve this item

Description
Get ready for an extraordinary water adventure with our Midnight 19FT Inflatable Water Slide for rent!
This remarkable slide is designed to make a massive impression at any event or gathering. The sleek black color scheme, adorned with vibrant accents, creates a striking visual that is sure to captivate guests of all ages, including young adults.
Safety is paramount, and if you plan on setting up the water slide inside a fenced-in yard, we kindly request that the gate entrance has a minimum width of 5 feet for easy access.
Constructed from high-quality materials, this water slide ensures durability and longevity, even with continuous use. Its generous height and thrilling design provide an exhilarating experience that will have everyone eagerly lining up for their turn. The slide culminates in a splash-worthy pool, offering a safe and refreshing landing.
Ideal for backyard parties, community gatherings, or corporate picnics, the Midnight 19FT Inflatable Water Slide is the perfect centerpiece to elevate your summer festivities. Its easy setup process ensures a hassle-free experience, allowing you to focus on creating unforgettable memories.
Don't miss out on the opportunity to add excitement and fun to your upcoming event. Reserve the Midnight 19FT Inflatable Water Slide today and prepare for an unforgettable splash-filled adventure that will leave everyone with lasting memories!
*Note: If being used in a fenced-in area, a gate opening of at least 5 feet wide is required.