Ring Toss Inflatable Carnival Game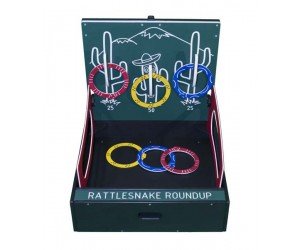 Description
GREAT CARNIVAL GAME
Ring Toss is a classic game that is perfect for all ages and occasions. This fun and challenging game consists of a wooden board with pegs and a set of rings. The objective of the game is to toss the rings onto the pegs and score points. The player with the highest score at the end of the game wins!
Our Ring Toss set is made from high-quality, durable materials that are built to last. The wooden board is sturdy and stable, and the pegs are securely attached to ensure they don't wobble or fall over during gameplay. The rings are lightweight and easy to grip, making them perfect for players of all ages and skill levels.
Ring Toss is a great game to play at backyard barbecues, family gatherings, and even at the beach. It's a fun and engaging activity that promotes hand-eye coordination, concentration, and friendly competition. Plus, it's easy to set up and can be played indoors or outdoors.
Whether you're looking for a fun addition to your next party or a new family game to enjoy, our Ring Toss set is the perfect choice. Order yours today and start tossing those rings!w