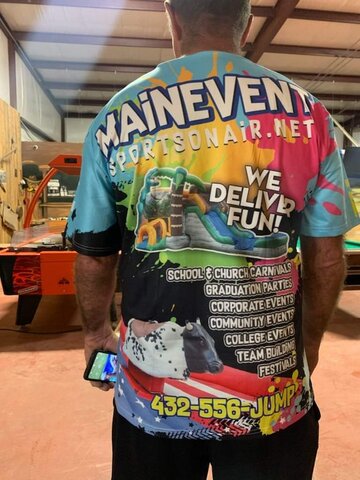 Description
Are you planning a big event, but worried about the hassle of setting up everything? Don't stress, we've got you covered! Hire our Setup Staff team of 10 people and watch your event come to life with ease.
Our team of experienced professionals are skilled in setting up a wide range of party equipment, including inflatable bounce houses, games, dance floors, furniture, and photo booths. With their expertise, you can be sure that everything will be set up quickly, safely, and efficiently, leaving you free to focus on enjoying your event.
Our Setup Staff team is made up of dedicated individuals who are committed to making your event a success. They arrive on time, with all the necessary tools and equipment to get the job done right. Our team members are trained to work together to ensure that everything is set up according to your specifications, making sure that everything is in place and ready to go for your guests.
Not only will our Setup Staff team assist in setting up your party equipment, but they will also be available to answer any questions you may have throughout the event. This means that you can relax and enjoy your party, knowing that our team is there to provide any assistance you may need.
Whether you're planning a birthday party, wedding reception, corporate event, or any other type of event, our Setup Staff team is here to help. With their expertise, professionalism, and dedication to customer satisfaction, you can be sure that your event will be a success from start to finish.
So why wait? Contact us today to hire our Setup Staff team of 10 people and let us take the stress out of setting up your event. Sit back, relax, and enjoy your event knowing that everything has been taken care of by our expert team.