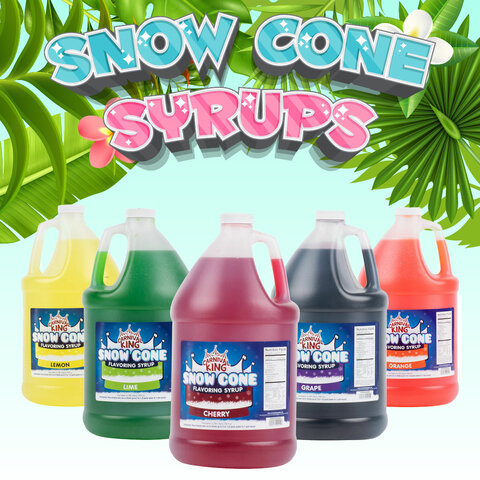 Description
Beat the summer heat with the delicious Snow Cone Flavor Mix that is sure to be a hit with everyone! The flavor mix comes in a convenient bottle that can make approximately 40 servings of refreshing snow cones. The mix is easy to use and can be used with any snow cone machine or shaved ice maker.
Each bottle of the Snow Cone Flavor Mix is packed with flavor and is available in a wide range of delicious options such as blue raspberry, cherry, and grape. The mix is made with high-quality ingredients, ensuring that you get the perfect flavor every time. The mix is also gluten-free, making it suitable for people with dietary restrictions.
Using the Snow Cone Flavor Mix is easy - simply add the mix to shaved ice and mix thoroughly. The mix is designed to dissolve quickly, making it easy to blend with the ice. The result is a perfectly flavored snow cone that is sure to cool you down on a hot summer day.
The Snow Cone Flavor Mix is perfect for a variety of settings, such as backyard barbecues, pool parties, and family gatherings. It is also a great addition to concession stands, carnivals, and other outdoor events. The mix is versatile and can be used to make a variety of other frozen treats such as slushies and granitas.
The bottle is designed to be portable and easy to store, making it perfect for on-the-go entertainment. It can be easily transported to different locations, making it a great addition to outdoor events such as barbecues, birthday parties, and family reunions.
In conclusion, the Snow Cone Flavor Mix is a must-have for anyone looking to beat the summer heat with a refreshing treat. Its high-quality ingredients, delicious flavors, and easy-to-use design make it a perfect addition to any kitchen or outdoor setting.
* EACH CONTAINER CAN MAKE AN ADDITIONAL 40 SNOWCONES