Star Wars Inflatable Bounce House Package Deal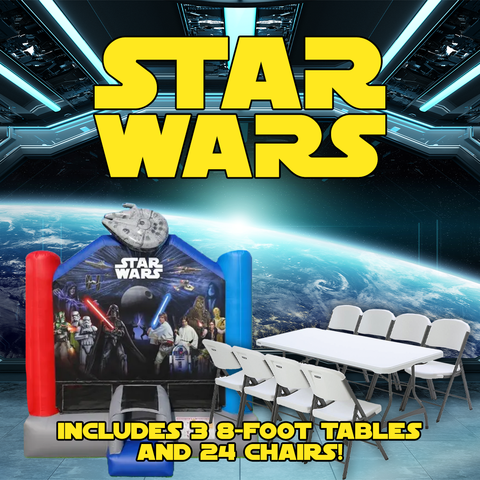 Description
Embark on an epic adventure with our Star Wars Bounce House Package Deal, designed to transport you to a galaxy far, far away!
Immerse yourself in the iconic world of Star Wars as you bounce, jump, and play alongside beloved characters like Darth Vader, Yoda, and R2-D2.
Crafted with utmost precision, the Star Wars Bounce House guarantees a stellar experience for kids and adults alike. Its spacious interior provides ample room for boundless fun, while the durable construction ensures it can withstand the most enthusiastic playtimes. Made from top-quality materials, this bounce house is built to withstand the force of excitement for hours on end.
Setting up the Star Wars Bounce House is a breeze, allowing you to focus on the party preparations. Whether it's a thrilling birthday celebration, a memorable family gathering, or an engaging community event, this bounce house is the ultimate choice for Star Wars enthusiasts of all ages.
But that's not all! Our exclusive package deal also includes three 8-foot long tables and 24 white folding chairs, providing a versatile setup for dining, games, and comfortable seating arrangements.
Unleash your inner Jedi and make your next party a legendary event with the Star Wars Bounce House Package Deal. May the fun be with you!
This Package Includes:
Star Wars Inflatable Bounce House
3 - 8 foot Tables
24 Chairs