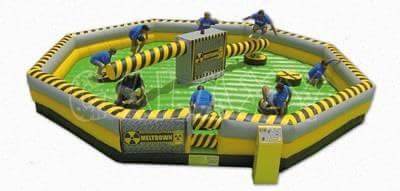 $1,000.00
Please call to reserve this item

Description
Toxic Meltdown is a thrilling and exciting game that will keep you on the edge of your seat. It is an interactive game that requires players to jump, duck, and dodge obstacles while trying to avoid getting hit by a swinging arm. The game is designed to test your reflexes and agility, and it is perfect for individuals who love a good challenge.
The game features a variety of levels that increase in difficulty as you progress, making it an excellent game for beginners and advanced players alike. The graphics are stunning, and the sound effects are realistic, creating an immersive gaming experience that will keep you coming back for more.
Toxic Meltdown is perfect for family game nights, parties, and events. It is a great way to get everyone involved and having fun. The game is easy to set up and can be played indoors or outdoors, making it a versatile option for any occasion.
Overall, Toxic Meltdown is an excellent game that is sure to provide hours of entertainment. It is a must-have for anyone who loves a good challenge and wants to have some fun with friends and family.