Unicorn Bounce House Package Deal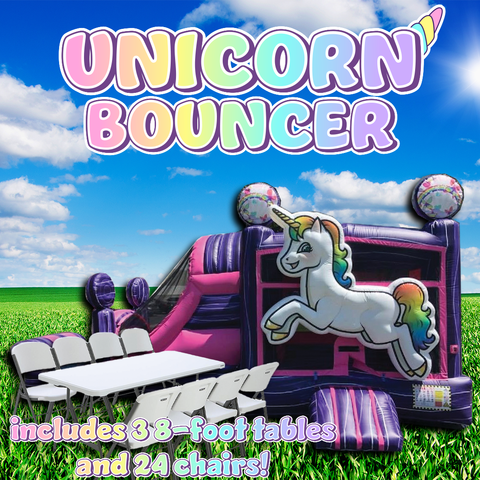 Description
Introducing our enchanting Unicorn Bounce House Package Deal!
This delightful inflatable bounce house is the perfect addition to any magical celebration or event. Immerse yourself in a world of whimsy and wonder with this charming unicorn-themed bounce house.
The Unicorn Bounce House features a spacious jumping area that will keep children entertained for hours on end. Watch as they leap, bounce, and create lasting memories in a safe and secure environment. With its vibrant colors and enchanting design, this bounce house will captivate imaginations and spark joy in every little adventurer.
But that's not all! Our Unicorn Bounce House Package Deal includes three 8-foot long tables and 24 white folding chairs, providing ample space for dining, crafts, or simply enjoying the company of friends and family. It's a complete package that ensures a seamless and memorable event experience.
Crafted with the utmost attention to detail and safety, our Unicorn Bounce House is made from top-quality materials to withstand the most exuberant playtimes. It's easy to set up and take down, allowing you to focus on creating magical moments instead of logistical challenges.
Whether you're hosting a birthday party, a unicorn-themed extravaganza, or a fairytale-inspired gathering, our Unicorn Bounce House Package Deal is guaranteed to bring smiles, laughter, and endless fun to your event.
Transform ordinary celebrations into extraordinary memories with our Unicorn Bounce House Package Deal. Reserve yours today and embark on a magical journey that will leave everyone in awe!
This Package Includes:
Unicorn Bounce House
3 - 8 foot long Tables
24 Chairs