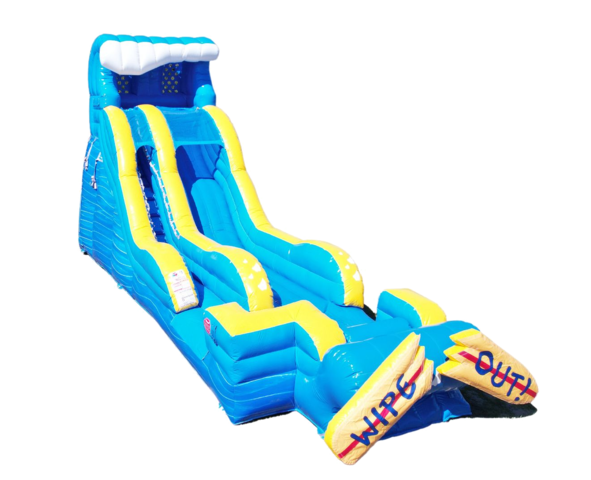 Setup Area: 20 x 40
Outlets: Requires 1 outlet
Age Group: From 8 years old and up..teens and young adults also
Description
Introducing the adrenaline-pumping WIPEOUT Waterslide, the ultimate thrill ride for water enthusiasts of all ages! Get ready to experience a rush like never before as you plunge down this exhilarating waterslide.
Designed with safety and excitement in mind, the WIPEOUT Waterslide features a towering height and a twisting, turning design that will leave you breathless. Feel the anticipation build as you climb to the top, taking in the breathtaking views before you take the plunge.
Once you're ready, brace yourself for an unforgettable ride. As you descend, you'll feel the rush of water against your skin, propelling you down the slide at incredible speeds.
Whether you're a seasoned thrill-seeker or a first-time slider, the WIPEOUT Waterslide is designed to provide an unforgettable experience for everyone. The slide's smooth surface ensures a seamless ride, while safety features such as handrails and non-slip steps offer peace of mind.
Perfect for water parks, resorts, and backyard fun, the WIPEOUT Waterslide is built to last. Constructed with durable materials, this waterslide can withstand hours of sliding and countless adventures. Its vibrant colors and eye-catching design also make it a visually stunning addition to any water attraction.
So, gather your friends and family and prepare for an adrenaline-fueled adventure with the WIPEOUT Waterslide. Get ready to make a splash and create memories that will last a lifetime. Don't miss out on the ultimate waterslide experience - try the WIPEOUT Waterslide today!
This waterslide requires an 6 ft wide gate if going through fenced in yard