Tent Rentals in Odessa TX
If you are looking for affordable
tent rentals Odessa TX
, please look no further,
Main Event Sports on Air
has you covered. We offer large and small package deals on
tables, chairs
and tent rentals Odessa TX to meet your needs. Please note we do not set up table and chair arrangments for you but we do set up tents in a specified area for your event. We offer an extensive collection of tent rentals Odessa TX. Here at Main Event Sports on Air, we take pride in only offering the highest quality tent rentals at a price you can afford. That is why all of our tent rentals are inspected and cleaned after every use to ensure you get only the best service possible. Make sure you book your tent rentals Odessa TX well in advance to ensure that all of the guests have a shaded place to sit, eat and conversate. In addition to our
tent rentals
, we also offer
inflatable games
,
mechanical rides
,
casino equipment
,
combos
,
water slides
and more!
Featured Items Complete Your Event With Tent Rentals Odessa TX
Don't allow your guests to be beaten down by the Texas heat, use Main Event Sports on Air for some much-needed tent rentals
Odessa TX
. It is better to be safe than be sorry when dealing with Texas weather, so allow us to keep you and all party-goers protected with our newly manufactured tents! Our easy-up tents offer needed shelter whether you are throwing a backyard party, wedding, fall festival, corporate event, spring festival or any other event setting. The open design of our tents allows all guests who are seated to look in all directions no matter where they are sitting. Plan smart for your next event and invest in our tent rentals Odessa TX.
Weather Policy For Our Odessa TX Tent Rentals

When planning an outdoor event or party, the weather can sometimes be tricky. We understand this and want to give every customer a fair shot at an amazing event with our Odessa TX tent rentals. Because of unforeseen weather complications, if you have to cancel any reservation, cancellation of 24+ hours in advance can be claimed as a voucher at a later date. Each voucher can be claimed for up to 1 whole calendar year! Vouchers only apply to tent rentals and other inflatable rentals.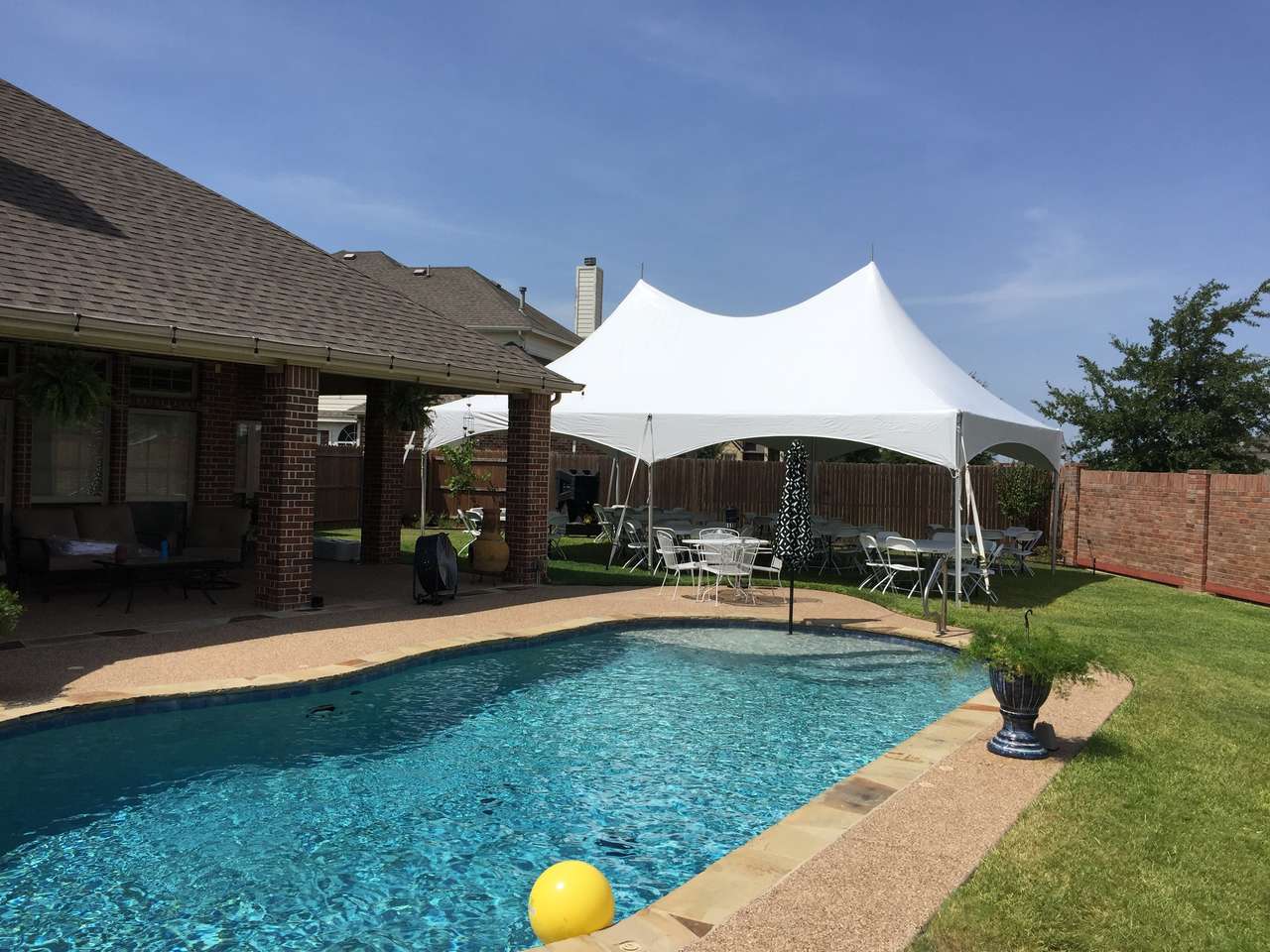 Odessa Tent Rental Weather Restrictions
Typically, when determining if the weather is too risky to deliver our tent rentals, we try to avoid:


All amounts of lightning


Fast and unbreaking winds of 15 mph or more


Freezing Temperatures


Heavy rains that make conditions too slick


Unbeatable Odessa Tent Rentals
Our Odessa Tent Rentals have specifications and add-ons for different configurations based on your planned event type: sit down dinner, buffet dinner, company mixer, or a social networking event can be accommodated for. All of our tents and accessories are available for rent in Odessa by the day, and you can add more time for extended party periods. Our high ceiling frame tents are a perfect center point to create classic outdoor spaces, whether it's a campaign for your business to celebrate a newly achieved goal or the creation of a beautiful outdoor wedding. Planning a special event for the little ones in
Ector County ISD
? Call today and see how easy planning for a school festival is when we are your vendor! These Odessa tent rentals allow you to quickly and easily provide a classic appearance, without the stress of set-up or clean up. When looking for a quality tent rentals and a respected supplier in Odessa TX, Main Event Sports on Air has the knowledge and experience to ensure you are only getting the best tent rentals Odessa TX has available.