Cotton Candy Machine with supplies for 25 servings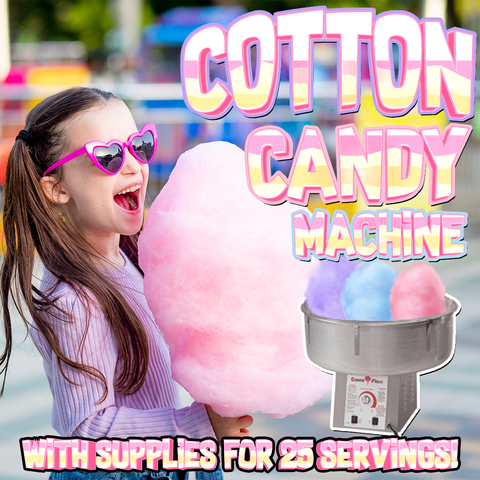 Description
Introducing our Cotton Candy Machine, the perfect addition to any party or event! This easy-to-use machine comes with everything you need to make 25 delicious servings of sweet and fluffy cotton candy.
Our machine is made with high-quality materials and is designed to be durable and long-lasting. It features a powerful motor that spins the cotton candy sugar into a light and airy treat that will delight guests of all ages.
In addition to the machine, we also provide all the necessary supplies, including 25 paper cones and enough cotton candy sugar to make 25 servings. Our cotton candy sugar is available in a variety of flavors, including classic pink vanilla, blue raspberry, and grape.Whether you're hosting a birthday party, carnival, or other special event, our Cotton Candy Machine is sure to be a crowd-pleaser. So why wait? Order yours today and start spinning up some sweet fun!
Don't be that party that runs out too soon!
Get extra Cotton Candy Mix!