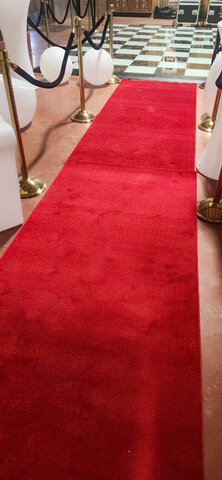 Description
If you're looking to make a grand entrance at your next event, then our 8-foot Red Carpet Runners is just what you need!
This elegant and sophisticated addition is perfect for any occasion, from weddings and galas to Hollywood-themed parties and award ceremonies.
As soon as your guests step onto the plush red carpet, they'll feel like stars walking down the red carpet at the Oscars. Whether you're looking to create a stunning backdrop for photos or just want to add a touch of glamour to your event, the Red Carpet Runner is the perfect solution.
And with its durable construction and easy setup, the Red Carpet Runner is a breeze to use.
Simply unroll the carpet, secure it in place with the included adhesive strips, and you're ready to go! And when the party's over, simply roll it back up and store it away until your next event.
Looking to add some pizzazz to your Red Carpet event?
Enhance the ambiance of your Red Carpet affair with our splendid Gold Stanchions! These luxurious fixtures are essential for keeping the party in full swing. Elevate your gathering with a touch of VIP treatment and order yours today!
So why wait? Order your 8-foot Red Carpet Runner today and get ready to add a touch of Hollywood glamour to your next event! Whether you're hosting a wedding, gala, or just want to make a statement at your next party, our Red Carpet Runner is the perfect way to do it.